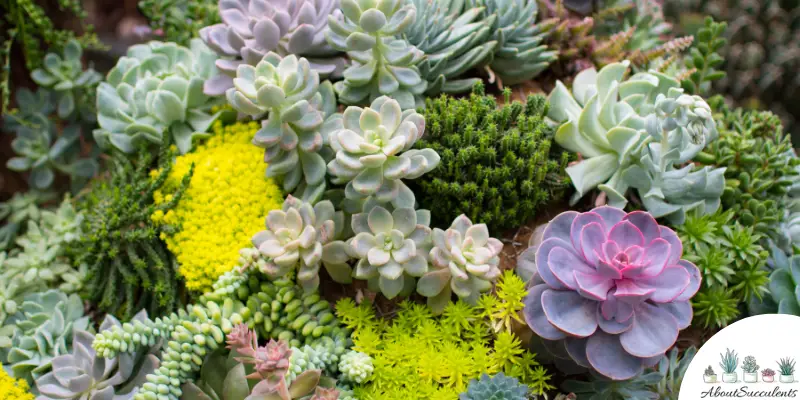 Succulents are beloved by horticulturists and landscape artists for their unique appearance that invites instant conversation, ease of care, and durability. Perhaps due to spatial constraints, budding plant hobbyists can only accommodate small succulents. But strangely, their charm and allure are somewhat magnified by the miniaturized versions of averaged-sized succulents.
We created this article to help you find the best types of small succulents for your home, office, or outdoor garden. Before we give you a rundown of our recommendations, we'd like to share a few valuable tips on how to grow and care for your succulent plants. 
3 Tips On Growing And Caring For Succulents
Succulents are fast becoming popular because they are easy to grow and care for. These are the ideal types of plants for first-time horticulturists and for those who are constantly on the move. 
As you will read from our 3 simple care tips, when it comes to succulents, less is more.
Sunlight
Succulents need at least 4 to  6 hours of direct or partial sunlight every day. If planted outdoors, the succulent must be kept away from the blistering rays of the afternoon sun.
When grown indoors, the succulent must be placed near a window that receives sunlight. If your home doesn't have a location that gets enough sunlight, you can place the succulent under a Grow Light for a few hours a day.
Water
Succulents can tolerate drought and hot temperatures because these plants store plenty of water in their leaves, stems, and roots. For this reason, you should avoid overwatering succulents and only water the soil when it has gone completely dry. 
Watering the soil while it's still moist will cause the roots to burst and get infected. The situation can immediately escalate to rotting throughout the plant. Lastly, don't spray water on the leaves and stems. Drench the soil in water and allow the excess amount to trickle out of the pot.
Pot and Soil
Choose a pot made of unglazed ceramic material or terracotta to house your small succulent. Ceramic and terracotta are quite porous and allow moisture to escape from the soil. Make sure the pot has a drain hole with a mesh cover at the bottom. 
The best type of soil to plant your succulents in is a well-draining variety such as sandy soil or a commercial blend mixed with pumice, pebbles, lava rock, or coarse sand. 
Best Types Of Short Succulents
The succulents presented below can be used to adorn your home or garden. Just keep in mind the 3 tips for growing and caring for them and you'll be just fine. 
Now let's begin…
Lithops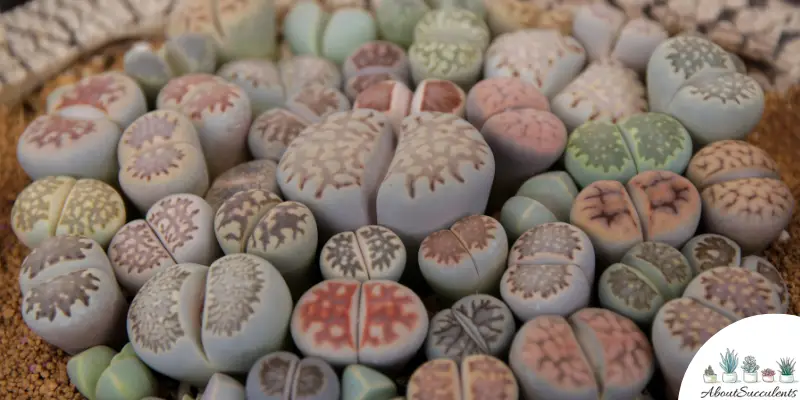 Lithops look exactly like its alias – Living Stones. These small succulents have a stone-like appearance and come in colors that can camouflage in any surrounding. During the fall season, Lithops bloom captivating yellow or white-colored flowers. Lithops is a variety of succulent that is native to South Africa and is non-toxic to animals. 
Echeveria Minima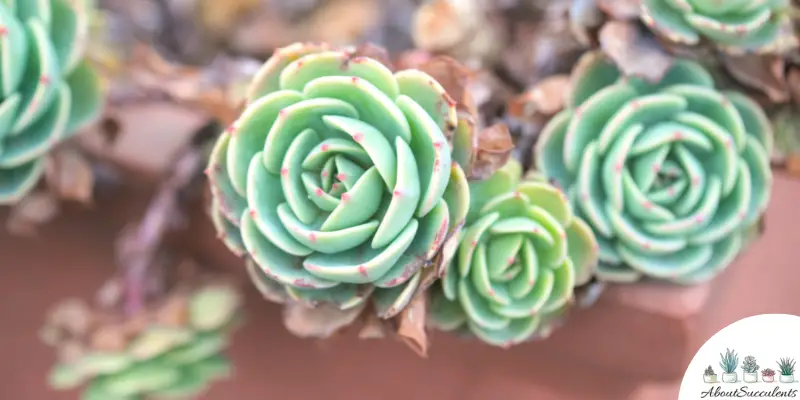 Echeveria minima is readily identifiable by its thick, green-colored leaves that are accented by pink tips. The leaves form a beguiling rosette that produces yellow and pink bell-shaped flowers on top of the stalks in the springtime. At full maturity, Echeveria minima will only reach a height of 3 to 4 inches (7.62cm to 10.16cm). This adorable succulent is native to Mexico and is non-toxic to dogs and cats.
Sedum "Little Missy"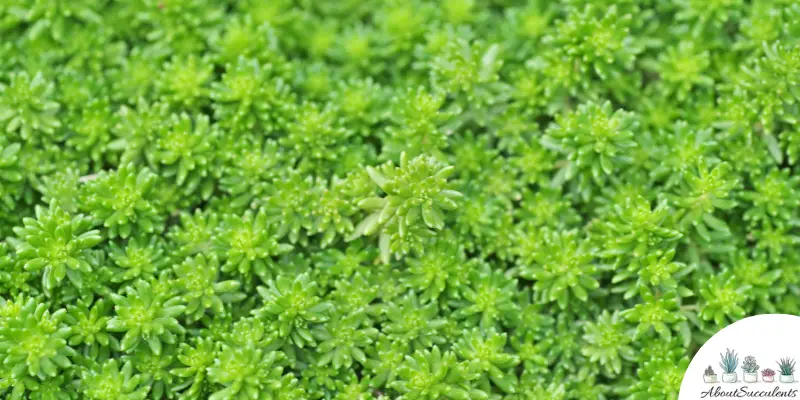 Sedum "Little Missy" grows only up to 2 inches (5.08cm) in height but is best displayed in a hanging container because it spreads as far as 6 to 8 inches wide (15.24cm to 20.32cm). This small but fast-spreading succulent is native to South Africa and is characterized by its bright green and white leaves. Properly cared for, Sedum "Little Missy" will reward you with small, pink flowers in the summer. 
Crassula Ovata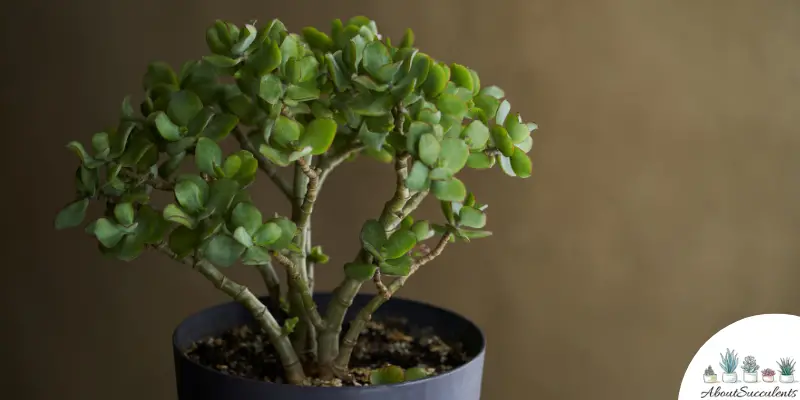 Crassula ovata or Baby Jade is an enchanting small succulent that is beloved by plant hobbyists for its bright green leaves that turn red when regularly exposed to direct sunlight. Baby Jade grows under 24 inches (60.96cm) and you can trim its leaves to have a more compact plant inside your home. In the late winter or early spring, Crassula ovata can greet you with small clusters of white, star-shaped flowers. 
Kalanchoe Pumila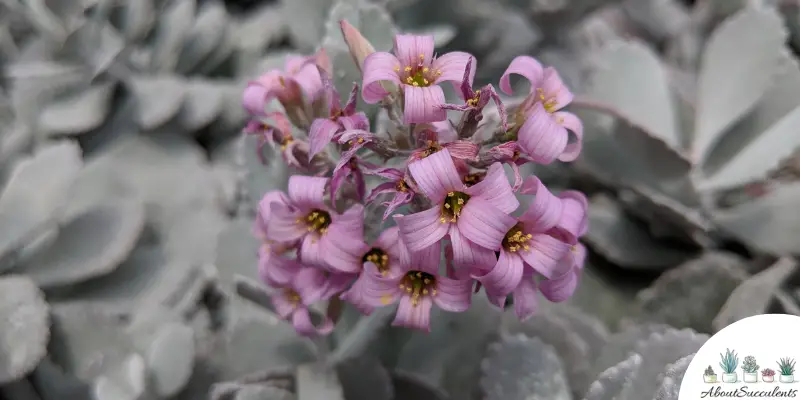 Kalanchoe pumila can be found on the "must own" list of many horticulturists because the succulent blooms clusters of pink clusters during the months of late winter or early spring. Set against the backdrop of wide, flat, silvery-white colored leaves, one can easily understand why Kalanchoe pumila is also called Flower Dust Plant. This succulent is native to Madagascar and is best grown inside a hanging container. 
Sempervivum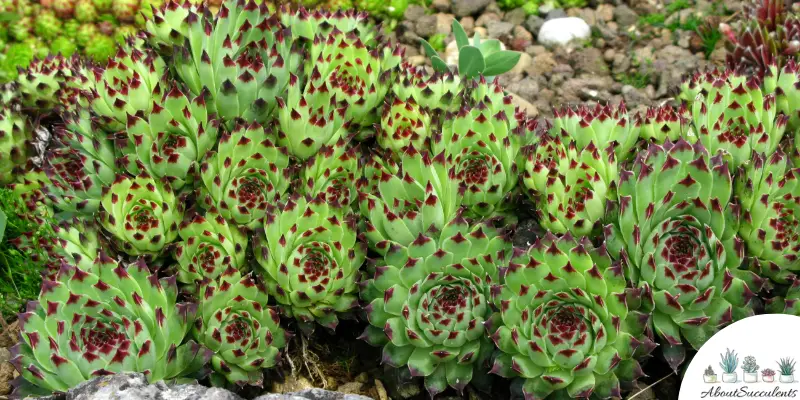 Sempervivum is one of the most durable and tolerant succulent plants you can grow. Unlike most succulents, Sempervivum which is native to Morocco, Western Asia, and Europe can survive frosty conditions. In fact, many Sempervivums have been seen thriving even after being blanketed by snow for weeks. This small succulent grows only up to a height of 3 inches (7.62cm) and is known for its lime-green leaves that form a tight rosette. 
Haworthia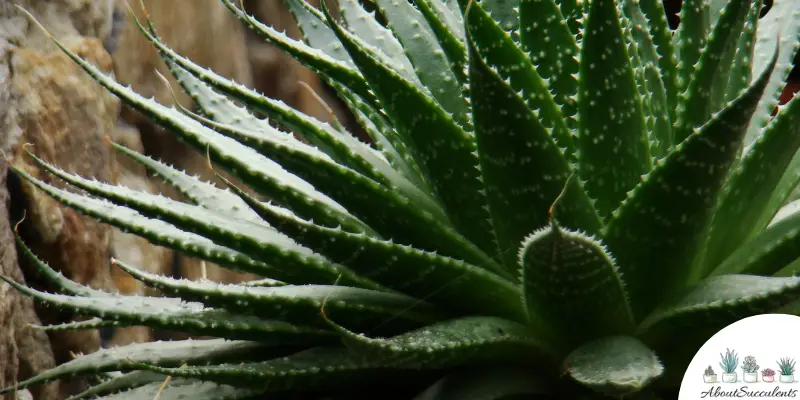 Haworthia earned the nickname "Zebra Plant" because of its dark green colored leaves that are punctuated by white, zebra-like stripes. Native to South Africa, Haworthia has a reputation for being a slow grower. It stays dormant during the summer months and grows best in the winter. Zebra Plant is one of the easiest succulent plants to care for because it rarely requires water and prefers indirect sunlight. 
Blossfeldia Liliputana
Blossfeldia liliputana is the best way to conclude this list because it's the smallest succulent you'll ever find. It might also be the most fascinating one that you can display inside your home or garden. Blossfeldia liliputana can appear as a solitary miniature cactus or grow as compact, multiple clumps without ribs or spines. Its stems have a grayish-green color and the surface bears what appears to be tufts of wool. This intriguing-looking small succulent measures only 1 to 2cm in height and is native to Southern Bolivia and North Western Argentina.  
Conclusion
What small succulents lack in height they more than makeup for in joy and excitement. Keep them on your windowsill to lend greater tranquility to your bedroom, library, or office. After getting its daily dose of sunlight, place the succulent pot on your work table to ward off stress. 
Best of all, succulents are easy to grow and care for. And if you want more of the species, these succulent plants can be propagated from their leaves, stems, or offsets. 
Simply cut off a piece of the stem, twist off a leaf, or pull out a pup growing near the base of the succulent. Leave it to dry in a nice, warm place for a few days until it develops calluses. 
Then, place the callused leaf, stem, or pup on top of a pot filled with well-draining soil. Water frequently until the roots take hold. Once the succulent's roots have been entrenched firmly into the soil, water only when it has gone 100% dry.
Last Updated on June 28, 2022 by Sofia Lara