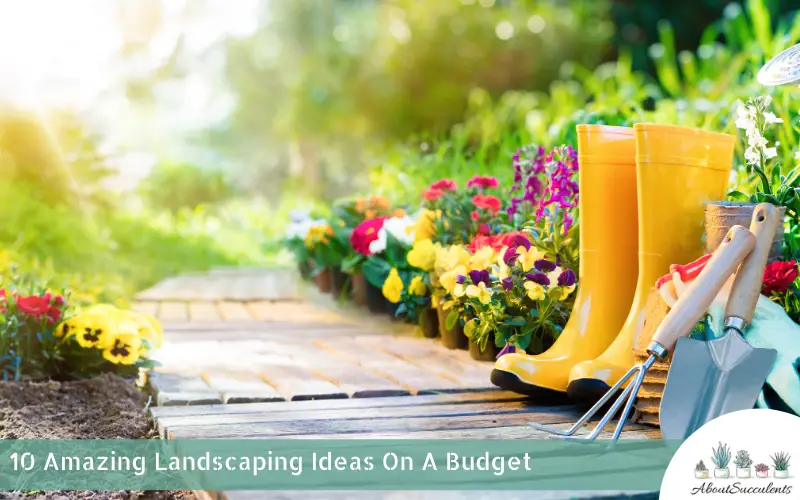 Landscaping is like the matrix of a painting. It keeps our eyes focused on the main subject – the house. If you've been thinking about giving your front and backyard a makeover but are worried about the cost – worry no longer! We have created a list of the best landscaping ideas that won't break your budget.
1. Build a Succulent Garden
Succulents are a variety of plants that store their own water. They have become increasingly popular in the last several years because they are easy to grow, care for, propagate, and affordable.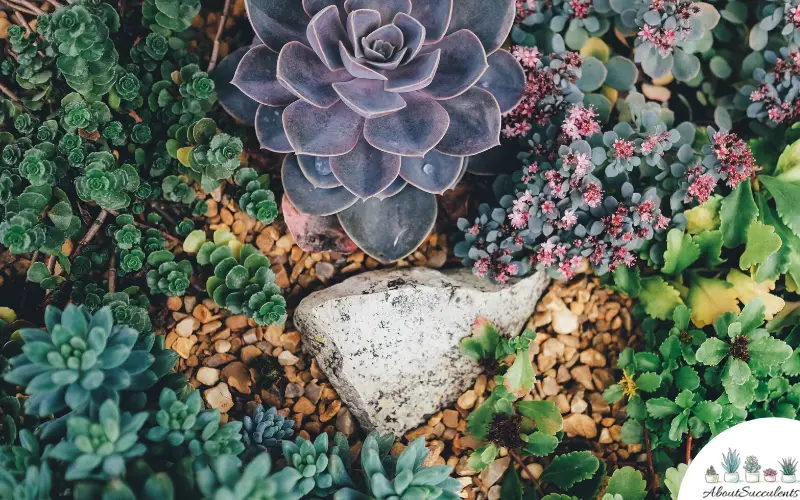 Succulents can be grown outdoors and indoors. In the outdoors, you can build a succulent garden by planting the succulent in the ground or by keeping them in beautiful terra cotta pots.
Here is a shortlist of the best varieties of succulents that you can plant outdoors on a budget:
Aeonium – Native to the Canary Islands; tolerates more sun than most succulent plants.
Agave – Native to Mexico; grows fast and produces flowers frequently.
Aloe – Native of Africa; produces tubular, beautiful bright-orange flowers.
Crassula – Native to South Africa; features thick, fleshy leaves that are arranged in a variety of eye-catching patterns.
Echeverias – Native to Mexico; produces beautiful rosettes in a variety of colors.
Make sure that the succulents are planted in an area that receives six hours of morning sunlight every day.
2. Not Enough Lawn Space – Go Vertical
If your lawn does not have enough space to showcase your landscaping ideas – go above ground with vertical gardening.
You will have to flex your creativity muscles harder with vertical gardening because you need to find ways to keep your plants stable while hanging.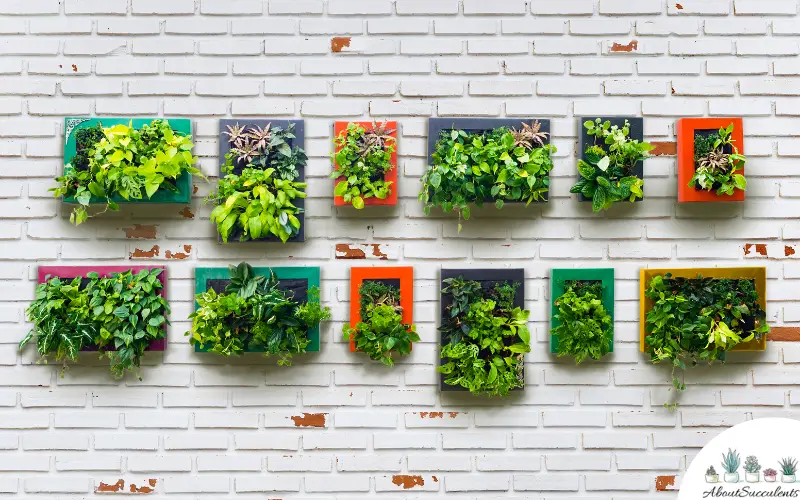 Here are a few ideas on materials you can use to hang the plants:
A wooden ladder
Used shoe rack
Used baskets
Old plant boxes
Spice rack
Old picture frames
Damaged wooden fences
Before setting up your vertical garden, clean the materials that you plan to use. The shoe rack, used baskets, spice rack, and the old picture frames may have to undergo waterproofing.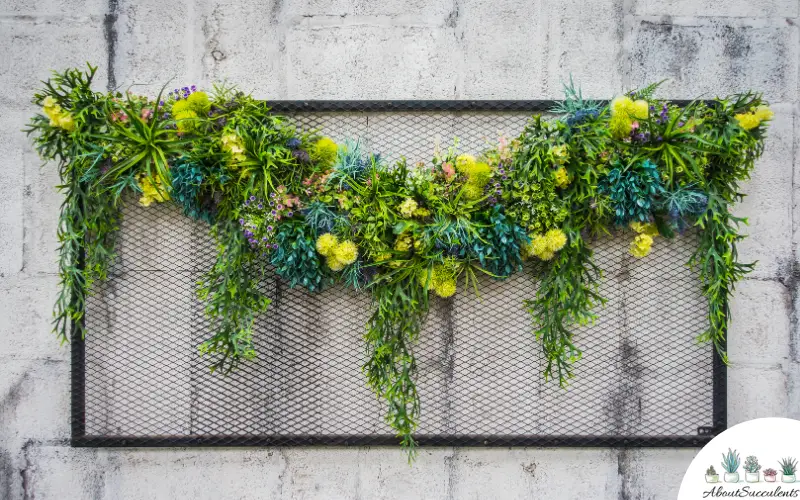 Likewise, there are varieties of succulent plants that make beautiful hanging plants without costing a lot of money.
These varieties of succulents include:
String of Pearls – Native to East Africa; leaves look like marbles that cascade downward.
Burro's Tail – Native to Mexico; produces long blue-green leaves.
String of Hearts – Native to Swaziland; recognizable because of its heart-shaped leaves.
Little Pickles – Native to South Africa; produces yellow flowers that grow better with regular sunlight.
Kenya Hyacinth – Native to Kenya and Madagascar; it starts out as an upright plant then grows into a hanging succulent with bright-green leaves. 
3. Put Up a Flower Bed Border
Putting up a border around your flower bed or a succulent garden will create more distinction between the feature and the lawn. Thus, give your favorite plants more focus and attention.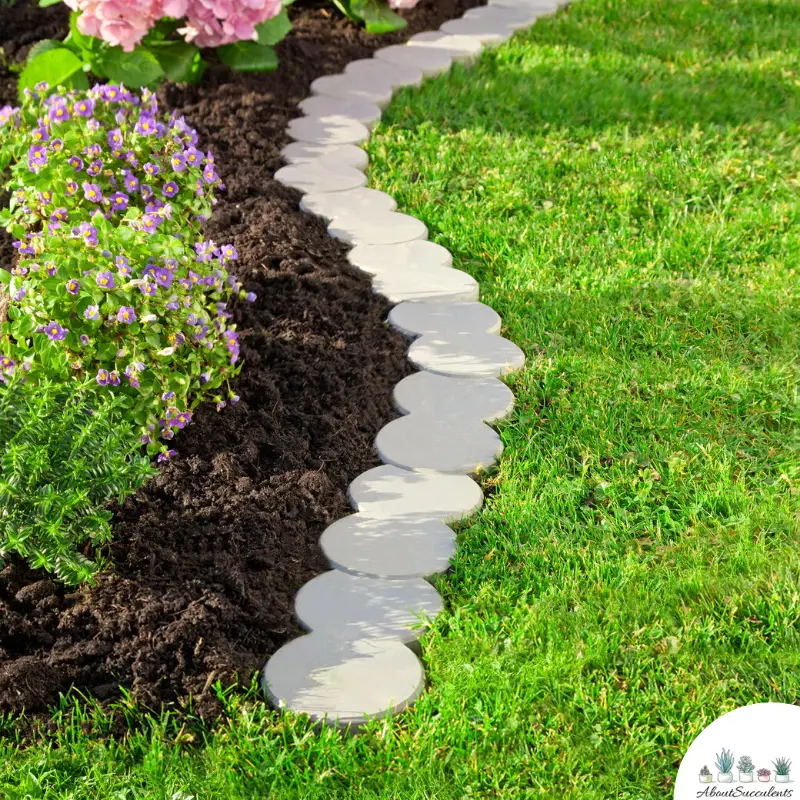 The best part is, it does not cost a lot of money to put up a border. All you need are edging stones and some mulch.
Edging stones are not expensive. You can bring five dollars to a local gardening store, buy a lot of edging stones and still have change leftover. Meanwhile, you can make mulch out of your Sunday newspapers, grass clippings or the leaves you just raked from your lawn.
4. Create a Big Splash with a Budget-Friendly Water Feature
One of the cheapest ways to bring the "Wow" factor to your front lawn is to build a water feature. Your neighbors will surely stop, take pictures, and ask you where you bought the water feature and how much overtime work you had to do to afford it.
They might be surprised to know that the water feature did not cost you much – if any at all because you can DIY it!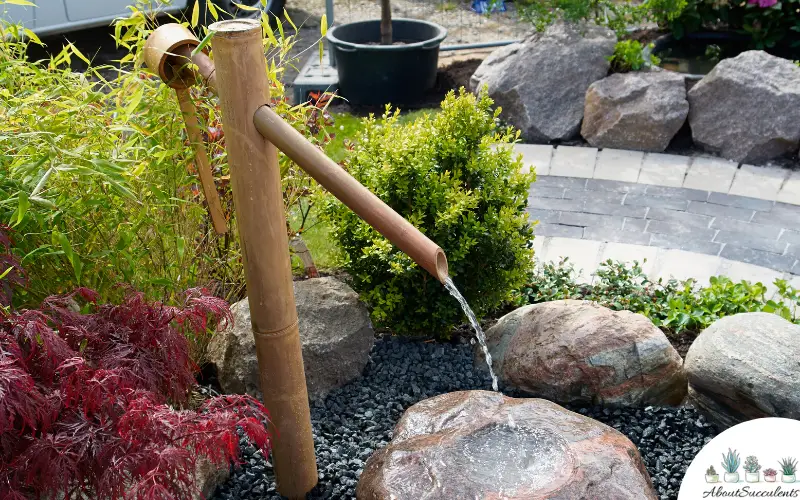 You can use discarded materials as the centerpiece of your water feature. Look for galvanized cans, tubs, wooden barrels, old clay pots, a birdbath or good-sized planter pots.
Make sure the materials for the centerpiece are clean. If necessary, give it a fresh coat of paint. Then, it becomes a matter of using your creativity to figure out where to insert the fountain pump. 
5. Repurpose Materials for Your Landscape Accents
Do you have a few old tires just gathering dust and cobwebs in your garage? Put the tires to good use by using them as accents that can brighten up your garden.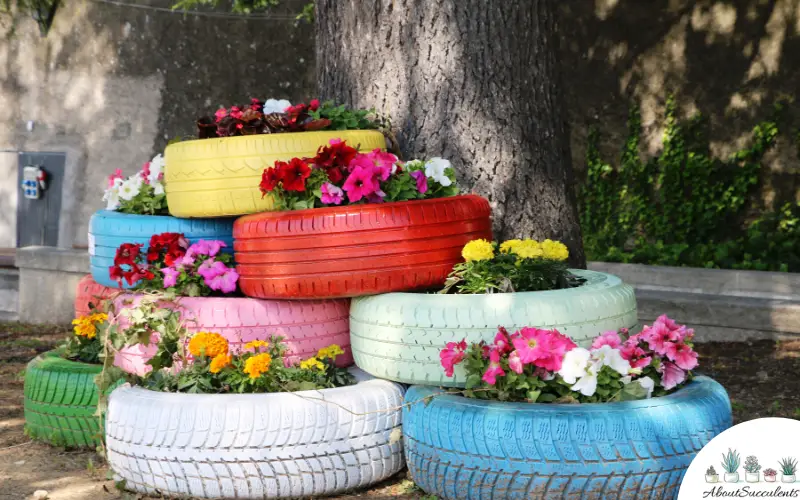 Clean out the tires and once they're dry, give them a nice shiny coat of paint. For a garden, bright colors such as yellow and orange are perfect. Hang the painted tires on the wall and use them as plant boxes for ornamental flowers like geraniums, lavender, and tulips.
6. Buy Inexpensive Plants That Have a Purpose
It's not uncommon for people to grow their own vegetables. So why not grow them in your garden? You will surely cut down your grocery bill and have the benefit of eating healthy, organic vegetables year-round.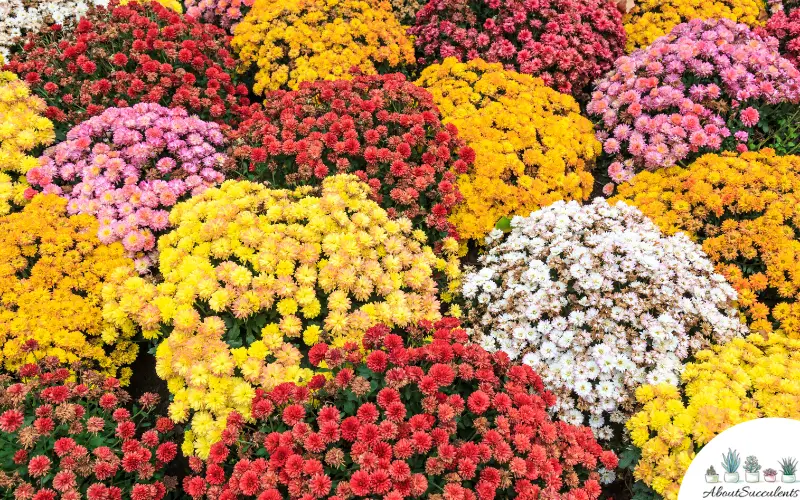 You may also want to consider buying plants that help repel bugs and other pests. Here is a list of inexpensive plants and the pests they repel to make home life more comfortable:
Citronella – Mosquitoes
Marigold – Mosquitoes and lice
Chrysanthemums – Ants, lice, ticks, roaches, and bed bugs
Basil – Mosquitoes and houseflies
Mint – Spiders, ants, and mosquitoes
7. Set Up a Backyard Fire Pit
You may have seen your friends post pictures in social media of their backyard fire pit in all its blazing glory. The family is gathered around the fire, smiling, a mug of hot chocolate in hand, and gleefully toasting the marshmallows for their smores.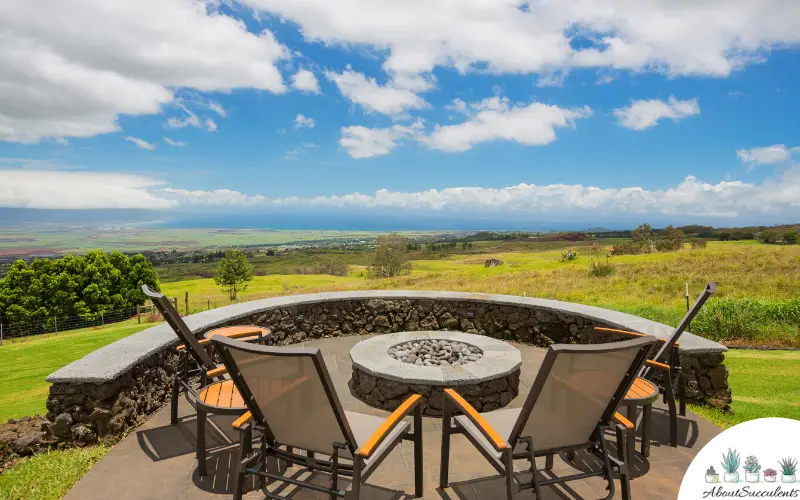 A fire pit is a wonderful way to bring family and friends together. It may look expensive but you can build one in your backyard that won't burn your savings account.
Set up a campfire station – just like the ones in summer camp or during your time as a Boy Scout – and create a border around it using bargain basement materials you can find at the hardware store.
What are some of the best but affordable materials that you can use?
Natural stones
Cinder block caps
Concrete wall blocks
8. Save Electricity – Plant a Tree 
A tree is always a welcome addition to any lawn. It adds natural beauty, contributes oxygen, and gives natural shade. 
And if you plant it near a window that gets a lot of afternoon sunlight to a room, you can cut down on your electrical expenses. All you need are some digging tools, mulch, and the tree of your choice.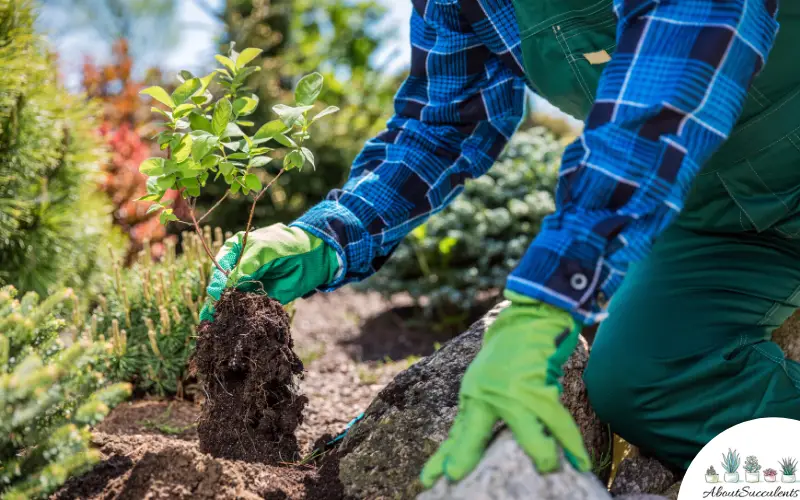 What are some of the best varieties of trees that you can plant in your lawn?
Paper Birch
Tulip Poplar
Dawn Redwood
Bald Cypress
Weeping Willow 
9. Refurbish Old Furniture
If you noticed, to re-use, recycle, and repurpose is a recurring theme in our article! Why buy brand new when you can simply channel the inner artist and breathe life into old furniture?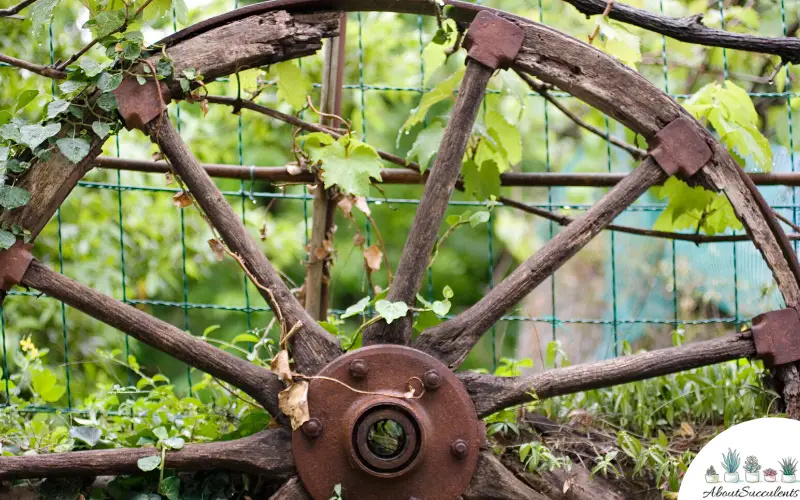 That retro chair from the 1980s that looks out of place in your minimalist/modern styled interior can have a second life as a conversation piece in the garden.
Give it a thorough cleaning, minor paint job, and perhaps a bit of waterproofing and you can literally watch the grass grow in your backyard. 
10. Light Up Your Backyard
Who says Christmas only comes around once-a-year? Make every evening festive and bright by adorning your backyard with affordable white twinkle lights.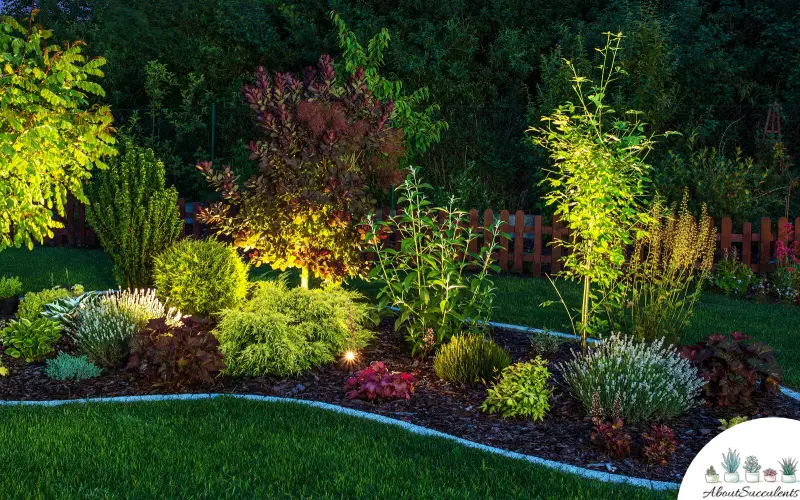 Did you plant a tree? Wrap it with a few twinkle lights or global lights to make the tree stand out even at nighttime.
You can also place the lights around your backyard patio as a way to welcome guests to your newest hangout.
Conclusion
If you're thinking of starting a new project at home, consider landscaping. Not only will a beautifully landscaped lawn add beauty, but it will also add value to your home.
You don't have to run through your savings to fix up your yard. Look around your house. The things you may have marked for the yard sale or the trash compactor can actually be hidden treasures that can spruce up your garden.
Last Updated on